When it comes to planning a wedding ensemble, finding the perfect dress is just the beginning. The right veil can elevate your bridal look to new heights, accentuating the beauty of your gown and personal style. To help you navigate the world of veils and their ideal dress companions, we've put together a guide on dresses that go best with each style of veil.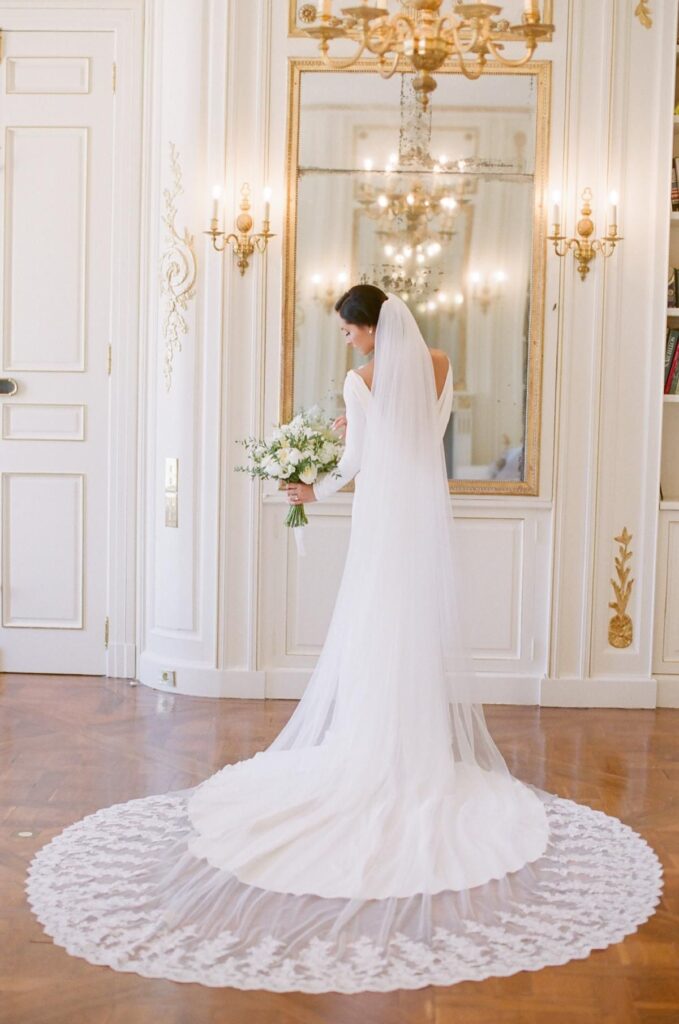 1. Cathedral Veil:
The dramatic and regal nature of a cathedral veil calls for a gown that is equally grand. Ball gown dresses with full skirts and voluminous trains are the perfect match for this type of veil. The veil's impressive length and trailing effect harmonize beautifully with a traditional ball gown, creating an enchanting and ethereal effect as you walk down the aisle. Embrace classic elegance with intricate lace or beading on your gown to complement the opulence of the cathedral veil.
2. Fingertip Veil:
The fingertip veil is an incredibly versatile choice that complements various dress styles. It pairs exceptionally well with fit-and-flare or mermaid dresses, as its length mirrors the curve of the gown's skirt, emphasizing your waistline and natural curves. This veil also works splendidly with A-line dresses, adding a touch of grace without overwhelming the gown's silhouette. For a cohesive look, consider a dress with delicate lace or embroidery details that echo the design of the fingertip veil.
3. Blusher Veil:
The short and charming blusher veil is an excellent match for vintage-inspired dresses. Think tea-length or 1950s-style dresses with flared skirts and cinched waists. The blusher veil adds an air of romance and mystery, enhancing the old-world charm of retro-inspired gowns. To complement this look, opt for dresses with delicate lace, illusion necklines, or vintage beading.
4. Mantilla Veil:
The mantilla veil, with its stunning lace edges, finds its best companion in dresses that feature lace or bohemian-inspired designs. A sheath or trumpet dress with intricate lace details complements the mantilla veil's allure, creating a cohesive and boho-chic bridal look. Choose dresses with soft, flowing fabrics that allow the veil's lace to shine through, evoking a sense of romance and sophistication.
5. Shoulder Length Veil:
The shoulder-length veil works wonderfully with a wide range of dress styles, but it particularly complements strapless or off-the-shoulder gowns. The veil's length draws attention to the neckline and collarbone, beautifully framing the bride's face. Opt for dresses with sweetheart or bateau necklines to enhance the gracefulness of the shoulder-length veil. A-line dresses and sheath gowns are also ideal choices, allowing the veil to accentuate the dress's overall silhouette.
6. Elbow Length Veil:
The elbow-length veil effortlessly complements classic and elegant gowns. It works exceptionally well with sheath, A-line, and ball gown dresses, adding a touch of sophistication without overpowering the gown's design. This veil style is perfect for brides seeking a traditional and timeless look. Consider dresses with clean lines and minimal embellishments to create a refined and elegant ensemble.
7. Ballet Length Veil:
The enchanting ballet-length veil pairs beautifully with flowing and romantic dresses. Soft, ethereal fabrics like tulle, chiffon, or organza work harmoniously with this veil style. Bohemian-inspired dresses with floral appliqués or subtle embroidery are also great choices, creating a dreamy and whimsical bridal look. A-line or fit-and-flare dresses with cascading layers of fabric complement the ballet-length veil's graceful flow.
Remember, while these suggestions offer guidance, there are no hard and fast rules when it comes to your bridal ensemble. Your wedding day is an expression of your unique style and personality, so feel free to mix and match to create a look that feels authentically you. In the end, it's the love and happiness you radiate that truly make your bridal ensemble shine.